Save the Children International is planning side events at COP26 as well as the youth event in Italy that will exhibit children's artistic expressions of their concerns and messages in relation to the climate crisis.
Activism through art – Artivism – also is an agreed tactic in the 2021 international action plan of the child/youth-led Red Alert campaign, supported by Save the Children in Asia. It helps to amplify children's creative expressions at national, regional and global levels.
NYCA and Save the Children Nepal are jointly organizing the "Red Alert Climate ARTivism competition". Young people, especially children, are the ones who will face the gravest consequences of the climate crisis. They should be engaged and heard loud in our fight against climate change because it is THEIR future that is at risk. This competition will not just highlight concerns or problems but also solutions to the climate crisis, which will help maximise the advocacy potential.
Red Alert Climate ARTivism competition
If you have a creative mind, are concerned about climate change, and will be aged 17 or younger on 12 November 2021, this contest is for you!
Create a piece of art – including paintings, songs, poems, or film – that describes the actions that governments, businesses or people need to take in response to the climate crisis. Then submit your art to the Red Alert Climate ARTivism competition on or before 15 August 2021.
You will have a chance of winning a cash prize. And whether you win or not, your entry has a chance of being shown publicly not only in your own country but around the world. This may include international events such as COP26 where world leaders will discuss actions to address the climate crisis.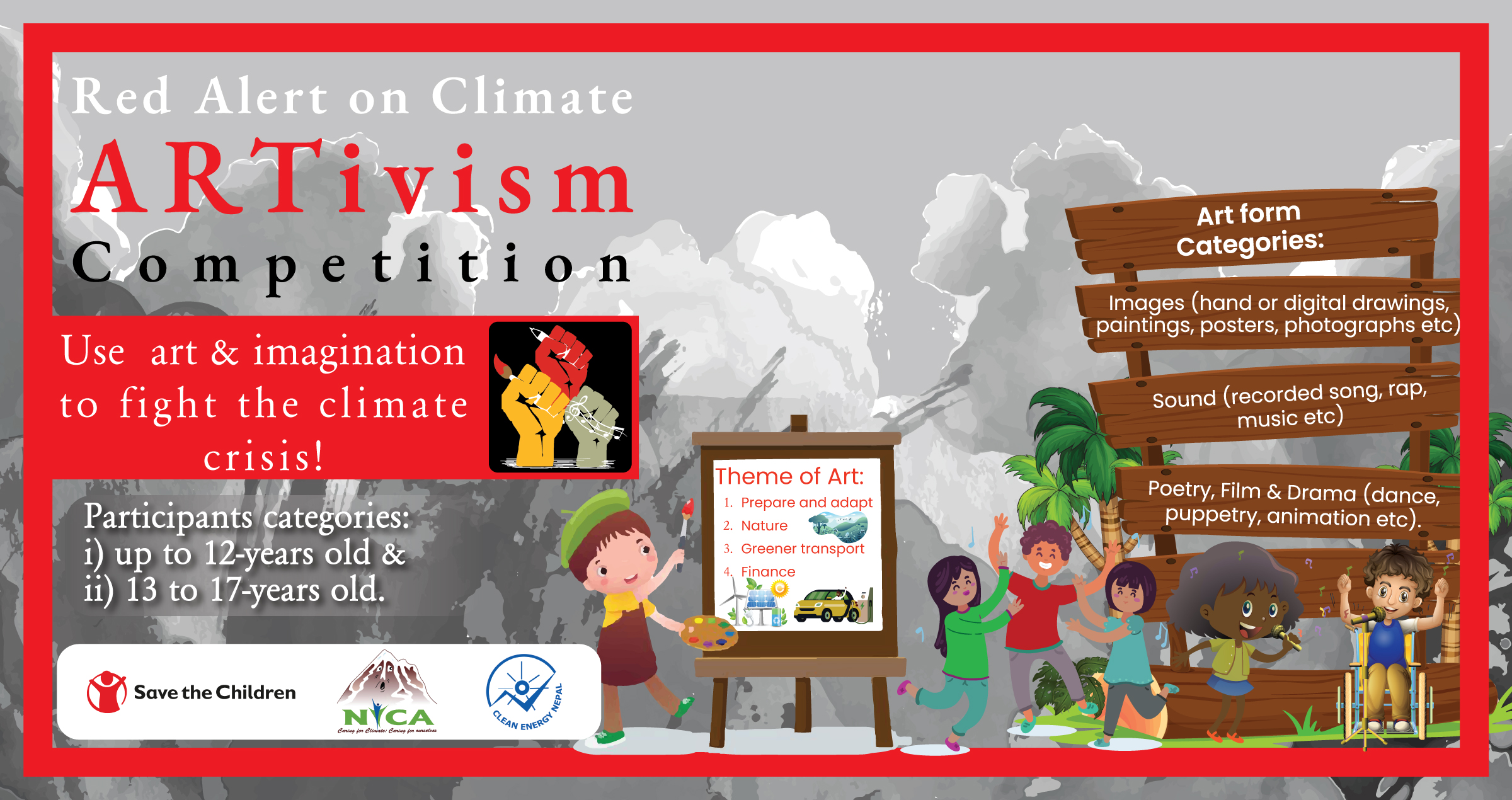 Objectives:
Provide motivating opportunities for children to express their climate crisis concerns and messages

Generate eye-catching content to help raise public and media awareness of children's concerns and messages at national and international levels

Influence government policies and practice as well as public and business behaviour in support of Paris Agreement goals before, during and after COP26.

Develop the habit of speaking out about global issues from a young age.
Participants:
This competition has two age categories:
i) up to 12-years old and

ii) 13 to 17-years old.
Art form Categories:
Images (hand or digital drawings, paintings, posters, photographs etc),

Sound (recorded song, rap, music etc)

Poetry

Film & Drama (dance, puppetry, animation etc).
Your words (if any) can be in any language.
The theme of Art:
Your entry should express your ideas about the solutions the world needs in relation to one (or more) of the following themes, which are the topics that world leaders will discuss at the international COP26 talks.
Prepare and adapt

: Help people to get ready for the climate crisis impacts that cannot be stopped so that they'll be safer from future disasters

Nature

: Protect and restore nature as a way to fight climate change

Greener energy

: Switch to cleaner, safer forms of energy for our homes and industry

Greener transport

: Replace traditional fuel for road vehicles with cleaner, greener alternatives

Finance

: Rich industrialised countries must keep their promises and make sure that poorer countries receive enough money to do all the above.
Entries can be connected to any of these subjects. Pieces of art that speak about the first and Fifth themes (adaptation and climate finance) are particularly welcome.
Judgement
Competition entries will be judged according to their relevance to at least one of these five themes, how clear the proposed solution is, how creative the entry is, and how effectively it encourages positive thoughts and action. Winners will be contacted by email or telephone.
Award
The top two winners of this national competition will be entered into the regional Red Alert Climate ARTivism contest involving up to 10 countries across Asia-Pacific.

Cash prizes will be awarded to the top 4 of both categories. E-certificate will also be given to all the participants.

Winning entries and a selection of other suitable pieces of art will be shown to the public and governments by Save the Children in order to highlight children's views about the climate crisis and influence action by people and governments. This may happen through social media, news media, websites, online exhibitions, and meetings with representatives of governments and international organisations.
Whether you win or not, your art may be seen not only in your country but potentially around the world including at international events such as COP26.
Cash Prizes:
1st place: Rs. 6000
2nd place: Rs. 5000
3rd place: Rs. 4000
Public choice: Rs. 4000
Entry conditions
To enter this competition, you must be below 18 years of age on 12 November 2021.

Entrants agree to accept the rules and decisions of the competition and its organisers.

By submitting their entry, entrants confirm they have obtained their parent's or guardian's consent to do so including their acceptance of the competition's rules and decisions.

By entering the competition, entrants and their parents or guardians give permanent permission to the organizers to display publicly their submitted art, as well as the entrant's full name, age, gender, and country of origin anywhere, including on websites and on social media accounts.

The competition entrant must inform any other people appearing in their art (e.g. in videos or photographs) that the piece of art may be seen publicly in their country and internationally, and those people must give their permission to the artist before the entry is submitted.

Entrants can work with one or two friends to produce a joint competition entry if each person involved is also below 18 years of age on 12 November 2021.

Competition entrants will retain the copyright of their pieces of art.

Competition entries should be original and not use someone else's copyrighted material. However, it is acceptable to include some words, concepts or images created by others (such as a national or UN flag, company logo, or a famous quotation) if these are artistically necessary, for example, to explain a specific point, be humorous etc.

Entrants agree to indemnify and hold the competition organisers harmless from any third-party claims arising from their submitted art and its subsequent publication, including claims related to copyright infringement and defamation.

Entrants can use any language in their art

Participants may submit up to three different entries to the competition, which can have messages about the same theme or different ones.
Submission rules and requirements
Any entries using words (e.g. songs and poems) should be no more than 300 words.

If you are submitting a poem, in addition to the written words you can include a recording of yourself reading the poem.

Musical entries (including songs or raps) should be recorded by the artist on video.

Any artistic films or musical recordings (including recordings of poems, drama, songs or raps) should be no longer than 1 minute and 20 seconds)

Any art created by hand, such as traditional paintings or drawings, should be submitted
by taking a good quality digital photograph of the finished entry.
Submissions must be in the following format below:

Images/drawings/sketches should be in JPEG/PNG format.

Poems should be submitted in PDF/Word format.

Short clips/videos should be in MP4 format.

Songs should be in MP4/MP3 format (for entrants who prefer to submit audio only).
Artist Statement
When submitting your entries, please provide the following details:
Full name (If you prefer, you can choose not to give your family name)

Country

Age on 12 November 2021

Contact information (email address and telephone)

Which one of the five themes your entry talks about most

The name or title of your work

A brief explanation (up to 150 words) of your entry, including the main idea or message,
why you chose that idea, and what you hope people will think or feel when they see
your work.
[Optional]:
- A close-up video recording of you explaining your entry (up to 150 words) including the main idea or message, why you chose that idea, and what you hope will happen when people see your work.
- A close-up photo of you holding your entry (or performing it) If this entry was produced by two or three children working together, please provide the following details:
Examples of sentence starters to describe your entry
My entry is titled "......." because …
In my drawing/poem/animation, you can see …
My ARTivism is trying to say ...
I decided to do this to change ….
Climate change matters to me because ...
When people see my poem/photo/puppet show, I hope they will …
When politicians see my entry, I hope they will take action by ....
Participation form HERE